How To Make Le Jardin Cakes With Simple Tips
Making dessert for every meal is not simple. You will have to think of different kinds dessert in order for different seasons and different occasions. However, with Le Jardin cakes, you can have the best flavor for every meal.
In this article, I will give you more tips to make this cake. This is a very famous desert coming from France. I hope that the information bellows will be useful for you.
Ingredients
For making Le Jardin cake, you need to buy a lot of ingredients but for each kind, you only need to buy a small amount. Here are what you will have to prepare.
8 gram gelatin for raspberry gelee
10 ml cold water
200 gram raspberries
20 gram sugar
140 gram icing sugar for Crème Anglaise
60 gram almond powder
70 gram pistachio powder
3 eggs and white yolk of 3 eggs
35 gram flour
25 gram butter fluid
265 gram whipping cream for while chocolate baravian cream
160 gram white chocolate
There are quite lots of ingredients, right? Don't worry. You only need to make a list and come to the bakery and ask them to sell some. Or you can find a shop for making cakes that sell all the ingredients.
All The Steps
After preparing all the ingredients, you will start making the Le Jardin with the following steps.
Step 1: Make Raspberry Gelee
Grind 200 gram of raspberry and mix it with 20 gram of sugar. Besides, sink the gelatin powder with cold water for 10 minutes and boil them. Pour the liquid into the grinded raspberry. Then you pour the mixture into the cake bags.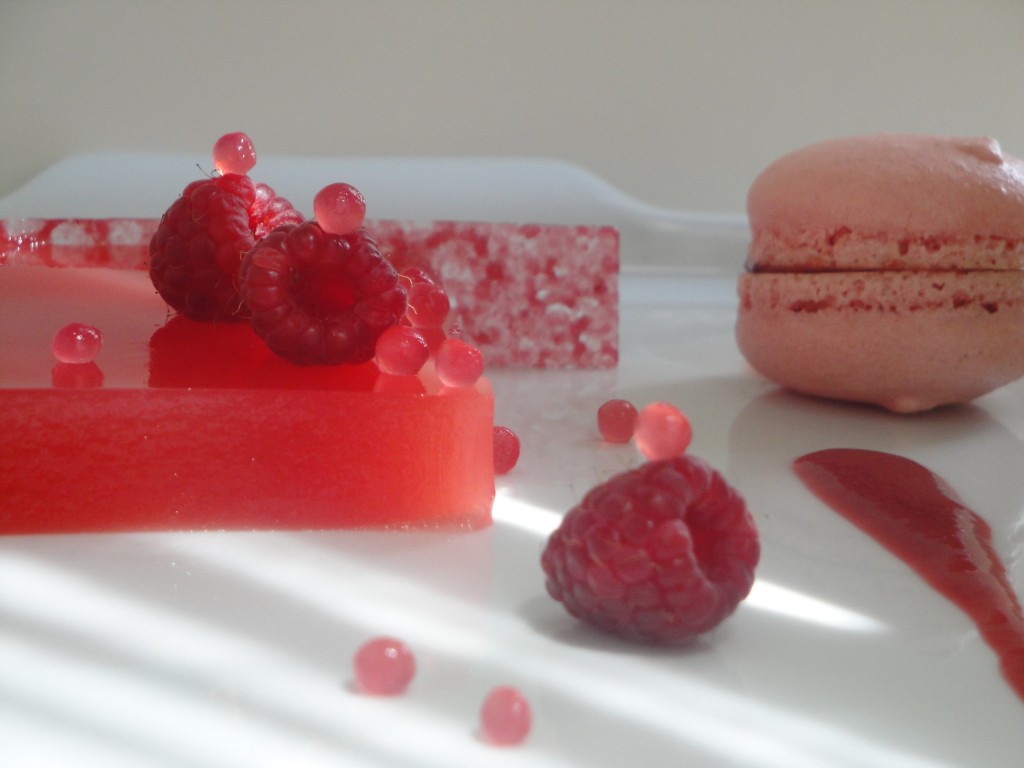 Step 2: Make Pistachio Joconde
In this step, you will need some stencils to plate in the trays. You will have to stir the white yolk of the eggs with 16 gram sugar until you see the foam of the white yolk.
In the different bowl, you beat the eggs and stir them with 125 gram of sugar, raspberry powder and pistachio powder. Mix them until it is smooth.
Step 3: Work With The Butter
You will add the butter to the mixture above and mix them carefully. After that, you mixt both the two mixtures you make in step 2. Remember that you should not mix them for too long on the grounds that it will make the cake dry.
Then you put the mixture into the trays and put all of them in the baking stove. You set the temperature at 180 degree and bake for 10 minutes.
Step 4: Crème Anglaise
In this step, you will have to detach vanilla with its nut. Pour milk, whipping cream and vanilla nuts ad boil until the mixture is boiled slightly. You also have to stir 3 egg yolks and then pour one third of the cream mixture to the egg yolk. Boil them until the mixture is thick.
Step 5: White Chocolate Baravian Cream
You need to steam the white chocolate until it is melted. Then you mix it with crème anglaise. Stir the whipping cream and mix with gelatin mixture in order to create baravian cream.
You cover this layer on the mixture baked before in order to create some layers for the Le Jardin.
Bottom Line
As you see, the process of making this cake can be complicated but everything will be fine if you are careful in every step. For the first time, you may not find it easy but only with making it twice or three times, you will master making Le Jardin. You can make it your dessert or make it as a gift for your friends on special occasions. In the next article, I will give you more recipes to make more desserts.